Modamkar Company
About The Company In Canada
Modamkar Company Canada Incorporated on September 25, 2020, in Ontario, Canada. We aim to distribute and install fire alarm systems for residential and commercial establishments in the Greater Toronto Area (GTA). We are an excellent fire alarm system installer and supplier to potential customers in various industries.
Mr. Madani is the Executive Director of the establishment in Canada. His technical expertise and experience in electrical engineering- electronics leads the new venture abroad and establishing a reputable brand in Ontario. Since 2017, he has worked as the Chief Executive Officer and Chairman of the Board of the Parent Company.
Our company in Canada receives industry-related support from the Parent Company in its operations. It takes advantage of the 40+ years of experience that the Parent Company has accumulated in the industry. We design, install, and maintain fire detection and fire extinguishing systems, and supply fire safety equipment. Our services designed to safeguard the client's property from fire.
About The Parent Company In Iran
Modamkar Co. Ltd. is a limited liability company established on July 30, 1979, Tehran Province, Iran. The Parent Company specializes in fire protection systems engineering. Its primary business line includes fire system consultation and design, distribution of fire detection and fire protection equipment, and installation of fire alarm and fire extinguishing systems. In addition, the Parent Company provides after-sales services such as equipment maintenance, routine inspection of fire detectors and their components, and fire detection and protection systems functionality check-up services.
One of Iran's oldest companies, with more than 40 years of experience, providing fire alarm and fire extinguishing systems equipment and services in the fire detection and fire fighting industry. It has accomplished more than 2,000 projects by continuously aiming to provide efficient and sustainable services to its clients. It has worked with Iran's major infrastructures such as the Tehran International Exhibitions, Central Data Center of Shahid Moayeri Building, Malek Library and Museum-Institute, Iran Gas Turbine Company (Toga), Tehran Theater Building, Tehran Metro Company, Tehran Book Garden Project, Mellat Autobank Tower, and Kish Twin Towers.
The company boasts of its highly experienced and trained personnel available to serve its clients 24/7. Currently, it has over 100 employees running its operations. Furthermore, it has partnered with world-leading manufacturers of fire-fighting equipment. The Parent Company is the exclusive representative of several European brands of fire detection and fire security equipment in Iran, including Protec from the United Kingdom, Aquasys from Austria, Rolland from France, and Siex from Spain. The Parent Company has four offices in Tehran with a total office space of 300 sqm. Moreover, the Parent Company has sales agents and representatives across Iran's major cities such as Mashhad, Isfahan, Kish Island, Tabriz and Shiraz in order to expand its market reach.
About The Management
Mr. Madani has been serving as the Managing Director and Chief Executive Officer of the Parent Company since 2017. He embodies the company's mission and vision towards the innovation of fire systems to keep abreast with the industry's latest development. As the highest-ranking executive in the Parent Company, his primary responsibilities include undertaking major corporate decisions, overseeing the Parent Company's overall operations and resources, serving as the main point of communication between the board of directors and operations of the business, and being the representative of the Parent Company in functions and events.
Mr. Madani has always shown his passion for leading a team. He has 25+ years of working with the Parent Company and has gained sufficient knowledge in managing a business' day-to-day operations. He started working for the Parent Company in 1995 as a Marketing Executive. Here, he was responsible for managing the marketing initiatives by conducting market research and analysis, overseeing all promotional materials and marketing campaigns, and reporting marketing and sales results to senior executives. He has acquired knowledge in marketing and promotions and applied this to create and maintain a long-lasting relationship with suppliers and customers. After 10 years, he was appointed Deputy CEO, where he managed to implement significant improvements within the Parent Company. In 2015, he became the Executive Director and, in 2017, the Chief Executive Officer.
As the Executive Director, Mr. Madani conveys policies and concrete objectives through effective management and strategic decision-making.
Some of the MODAMKAR achievements:
Certified by Tehran Fire & Safety Organization
Principal member of the Union of electronic security technical and engineering and safety channels corporations
Member of Employers' Association of Fire Safety and Engineering Companies of Tehran
Having Contractor qualification certificate in the field of facilities, equipment and power
Qualified by plan and budget organization in the field of Fire & safety equipment in 1996
Certificate holder of Environmental Management System ISO 14001 and customer satisfaction ISO 10002
Certificate holder of quality ISO 9001 and Professional Health and Safety Management System OHSAS 18001
Having establishment permit of technical and engineering unit of the ministry of industry, mining and trade in the specified field of electrical, electronics, control and automation industries
Having experienced staff for 24/7 supplying services and supporting installed systems
Design automatic gas fire extinguishing systems based on NFPA & BS standards
Perform hydraulic calculations of gas fire extinguishing systems through equipment manufacturers software
Design various automatic water fire extinguishing systems based on NFPA standard
Design conventional fire alarm and addressable systems based on the valid global standards such as BS
Having experienced, professional staff trained in foreign companies for systems installation
Supplying fire and safety systems and equipment from companies including Protec, Rolland, Siex, Reactone, and Aquasys
---
Our History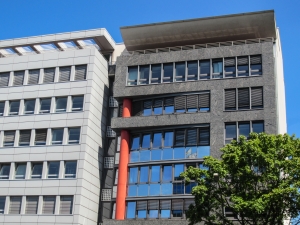 MODAMKAR Co. was established by Mr. Hassan Maddah in 1972. After 40 years, now it is considered as the oldest corporation in fire and safety industry in Iran.
1972- MODMKAR was established
2000- Obtained exclusive partnership of Protec
2015- Protec top partner all over the world
2016- Protec top partner all over the world
2017- Protec top partner all over the world
2020- Operating more than 1500 projects until now
---